Emergency Dentist – Sherman, TX
Need Immediate Dental Care? Call on Us!
Have you accidentally knocked out a tooth? Did you chip one of your pearly whites by taking a tumble while out for a run? Are you panicking because of a lost dental crown or filling? Dental emergencies can happen at the most inopportune time, and they can range in severity. Fortunately, we offer emergency dental care, so you never feel as if you're facing a situation on your own. Call us today to talk with our emergency dentist in Sherman, TX about what you should do when faced with a sudden dental crisis and need help.
Why Choose Grant E. & Mark A. Smith DDS for Emergency Dentistry?
Dental Insurance Welcome & Financing Available
Same-Day Emergency Care
Innovative Technologies for More Comfortable Experience
How We Treat Dental Emergencies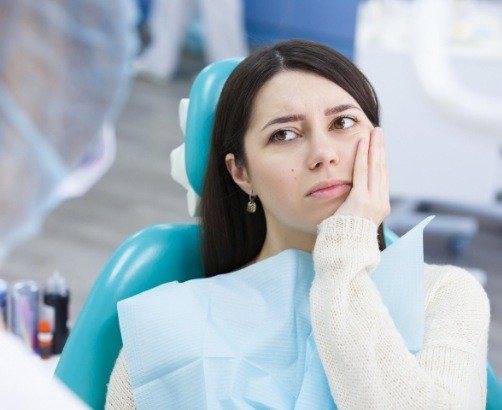 Call to schedule an appointment – The first step you must take is to call our dental office to let us know what has happened. We will survey the severity over the phone and determine how quickly we can see you. We'll also provide helpful tips to help manage the pain while at home.
Undergo a thorough examination – When in our dental office, a member of our team will take digital images and examine your mouth to evaluate the damaged area.
Review findings – Once we review our findings, our team will formulate a treatment plan that focuses on addressing the problem and helping to get your smile back on track.
Treat the problem and eliminate the pain – After agreeing to the proposed plan, we will get to work to eliminate any pain you're experiencing as well as provide restorative care to fix the issue and give you back your smile.
The Most Common Dental Emergencies
Not all injuries are considered dental emergencies; however, this may not be easy to determine if you're not a dentist. This is why we invite you to call our dental office should you suspect something serious or if pain is an issue. Below, you will find a list of the various types of emergencies we handle in-house so that you know where to turn when problems arise.
Understanding the Cost of Dental Emergencies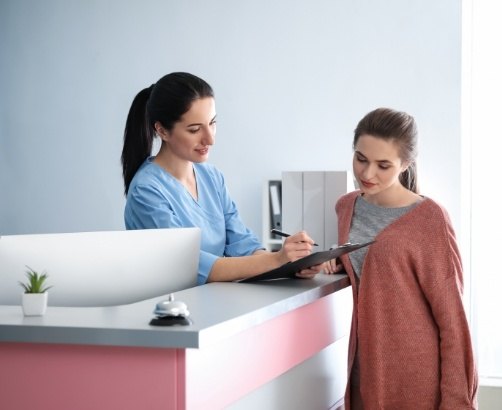 Only when you see us for an appointment can we determine the cost of your emergency dentistry. These injuries can range from mild to severe, and each has its own unique method of treatment. And because no two patients are alike, it is necessary that we evaluate your smile before giving a cost breakdown. Once we can explain how much you can expect your treatment to cost, we'll work to maximize your dental insurance benefits as well as go over financing options to help lower any out-of-pocket expenses.
Keys to Preventing Dental Emergencies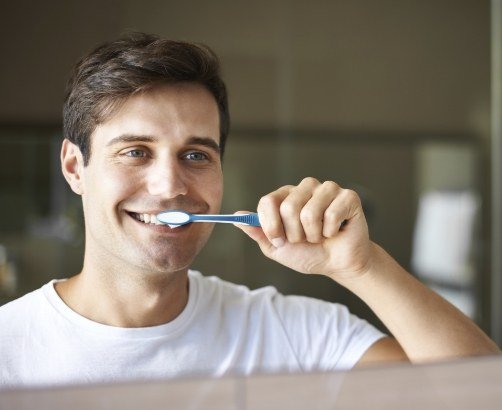 Not all dental emergencies are preventable, but many can be avoided by simply adopting a few key practices, such as:
Maintaining good oral hygiene at home by brushing, flossing, and rinsing
Keeping six-month dental checkups and cleanings to ensure your dentist is pleased with your oral health
Wearing a mouthguard to minimize potential teeth grinding while sleeping or possible damage while playing sports
Eating healthy foods and snacks instead of those loaded with sugar and starch
Seeking immediate treatment when pain, swelling, or bleeding occur
Root Canal Treatment
The pulp is the innermost layer of a tooth. When it becomes damaged or decayed, it will likely cause much pain as well as put you at risk for worsening oral health. By performing a root canal, our team can remove the infected pulp and clear out nearby canals while avoiding the potential for tooth extraction. Through this process, you can keep your natural tooth for longer and avoid the high costs of tooth replacement.
Tooth Extractions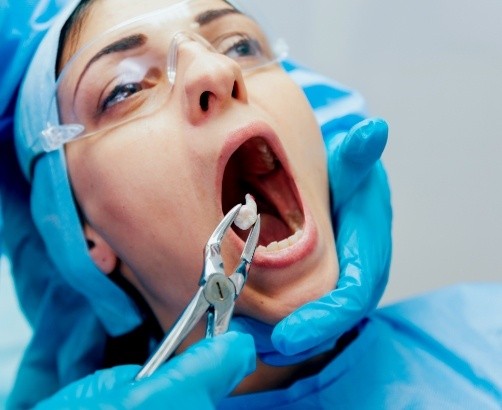 When dental crowns and root canals prove unsuccessful, the only option left to consider is tooth extraction. Although this is never the first option for our team to recommend, it is a necessary step when teeth are severely decayed or damaged and cannot be fixed by any other means. Should this procedure be necessary, you can rest assured that we will ensure your safety and comfort before, during, and after your tooth removal.