Dental Implants – Sherman, TX
Reliable Prosthetics Designed to Restore Smiles
Tooth loss can have devastating effects on a person's ability to speak, eat, and smile. It can also lead to jawbone deterioration that can eventually cause more tooth loss, gum disease, and other serious oral and overall health problems. Dr. Mark, Dr. Grant, and Dr. Sharlenne want to help individuals avoid these issues by using dental implants in our Sherman, TX dental office. Considered the most superior form of tooth replacement available, these prosthetics do what no one other restorative solution can, which is restoring the complete root-to-crown tooth structure. Call us today to schedule a consultation and find out if dental implants are right for you.
Why Choose Grant E. & Mark A. Smith DDS for Dental Implants?
Partner with Local Specialists
Personalized Plans Based on Patients' Needs
Flexible Financing Available
What are Dental Implants?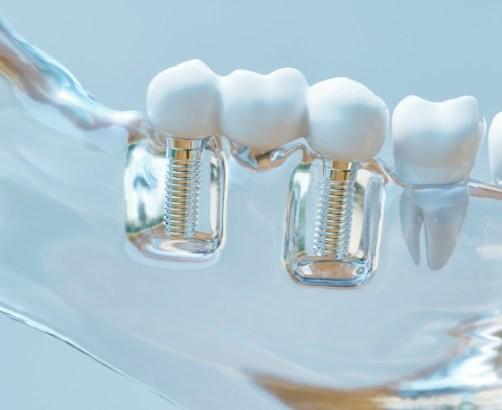 Dental implants are small, titanium, screw-like posts that fit into vacated sockets and fuse with the jawbone over time. Mimicking the roots of teeth, they work to stimulate the bone, preventing it from deteriorating and causing further tooth loss. On top of these implant posts are customized restorations, which can be dental crowns, bridges, or dentures depending on the number of teeth that are missing.
They are capable of remaining firmly in place for 30 years or even a lifetime depending on how well they are maintained, and patients can expect optimal functionality once they are put into place.
The 4-Step Dental Implant Process
Undergoing dental implant tooth placement requires patience, as it requires months of recovery before final restorations can be put into place. Although each person receives a different treatment plan, the same four steps must be followed:
Initial Dental Implant Consultation – Patients meet with a member of our team to discuss candidacy as well as if any preliminary treatments are necessary (i.e., bone grafting, periodontal therapy, etc.).
Dental Implant Surgery – Our team will refer patients to a local specialist who will perform the actual dental implant surgery, placing each post into the corresponding location.
Dental Implant Osseointegration/Abutment – After surgery, patients are expected to enter the recovery phase, which can last anywhere from 3-6 months. This allows osseointegration to occur, which is the fusing of the bone and implant post.
Delivery of Dental Implant Restoration(s) – The final step is to receive the finished restoration, which will be secured to the top of the dental implants.
Benefits of Dental Implants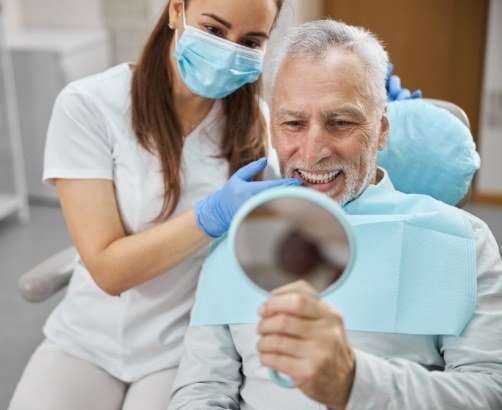 Millions of people in the U.S. have turned to dental implants to change the way they eat, speak, and smile. As it is quickly becoming one of the most popular tooth replacement solutions, dentists are encouraging patients to look at its many benefits, some of which include:
Improved jawbone stability and stimulation
Reduced risk for systemic issues caused by tooth loss, such as osteoporosis, heart disease, and diabetes
The ability to eat all types of foods and worry less about slippage or prosthetics falling out
Increased longevity that allows dental implants to last 30 years or more
Greater confidence when speaking in front of others
Who Dental Implants Can Help
Nearly any adult who is experiencing tooth loss can enjoy the benefits of dental implants. However, it is necessary to undergo a complete consultation to ensure there are no oral health issues that might cause a risk for implant failure (i.e., tooth decay, gum disease). While meeting with a member of our team, patients can expect us to formulate a treatment plan that not only incorporates additional services, if needed but also discusses which types of dental implants and restorations are needed based on the number of teeth that are missing:
Missing One Tooth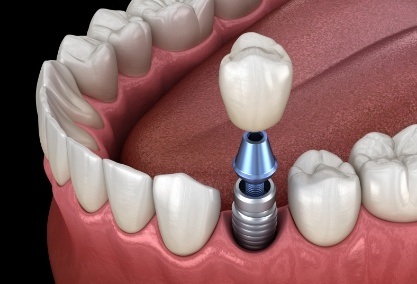 More than 120 million Americans are living with one missing tooth. To ensure our patients do not become a statistic, we can replace a single tooth with one dental implant. Using a titanium post, metal abutment, and customized dental crown, we can fill in the gap and restore optimal functionality.
Missing Multiple Teeth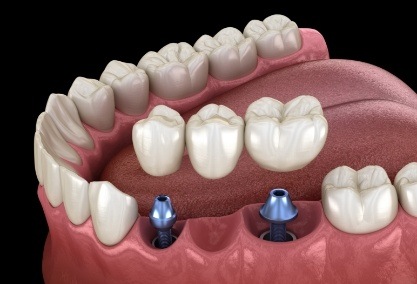 When two or more teeth are missing, we don't need to resort to a traditional fixed bridge. Instead, we can avoid altering healthy tooth structures by using two implant posts to support a customized dental bridge. Placing the two posts into the exterior sockets will provide the necessary foundation for a bridge that can fill in the space and allow for greater bite force and chewing power.
Missing All of Your Teeth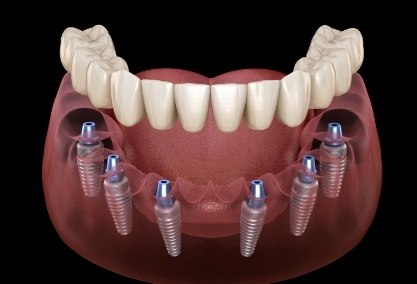 Instead of relying on a traditional denture to replace an entire arch of missing teeth, our team can use between four and six dental implants to set the foundation for a newly created implant denture. Secured with the help of these titanium posts, they require no denture adhesive or a person's natural suction to remain in place.
Understanding the Cost of Dental Implants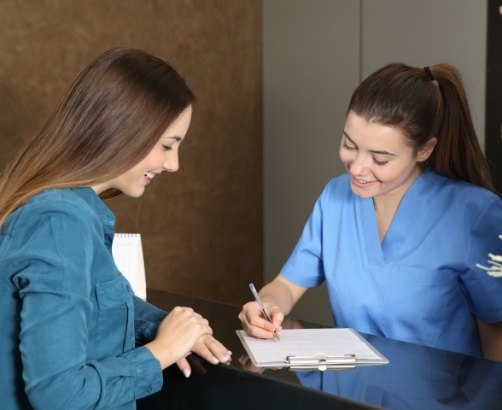 The cost of dental implants cannot be determined until a person decides to come in for a scheduled consultation. It is during this visit that we will go over the various factors that can increase or decrease the amount spent on dental implants (i.e., the number of posts needed, the type of restoration, the need for preliminary treatments, etc.). Once we have an idea as to how much treatment will cost, we will formulate a cost estimate and go over available ways to pay.