Dentures – Sherman, TX
Helping Our Patients Smile Again
Dentures have been used to restore smiles for countless decades, but over the last 20 or so years, they've received hyper-realistic upgrades, allowing patients to enjoy a full set of teeth that's both functional and natural-looking. At Grant E. & Mark A. Smith DDS, our team utilizes the highest quality of dental materials and takes into account each of our patients' unique smile goals to craft beautiful restorations that can improve your day-to-day life. Call our office today to schedule a consultation and learn more!
Why Choose Grant E. & Mark A. Smith DDS for Dentures?
Family-Owned & Operated Practice
Compassionate & Caring Dental Team
In-Network with Delta Dental Premier
Who is a Good Candidate for Dentures?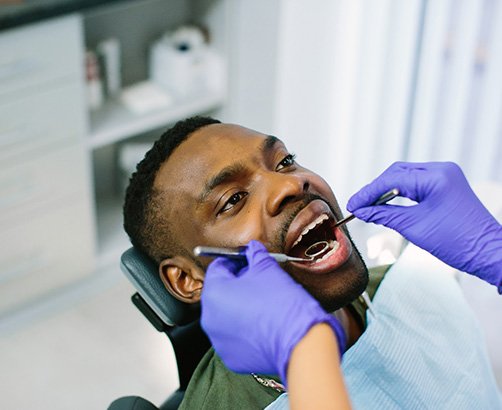 Dentures are an excellent restorative treatment for patients who are either missing several or all of their teeth along an arch. We'll conduct a thorough oral examination of your remaining teeth and gums to make sure that your oral structures are able to adequately support your new dentures. In some cases, you may need preliminary treatments, like a tooth extraction or gum disease treatment, to become a good candidate for dentures.
Types of Dentures
Depending on how many teeth you're missing and their locations within the mouth, you may benefit from any of the three types of dentures we offer, including partial, full, and implant dentures.
Partial Dentures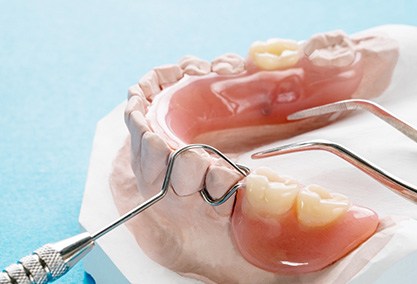 Partial dentures are designed to restore several missing teeth located throughout the mouth. They typically have a metal base that's designed to fit like a puzzle piece between your existing teeth, holding the restoration securely in place. They usually feature gum-colored acrylic bases that anchor natural-looking ceramic or porcelain teeth in place.
Full Dentures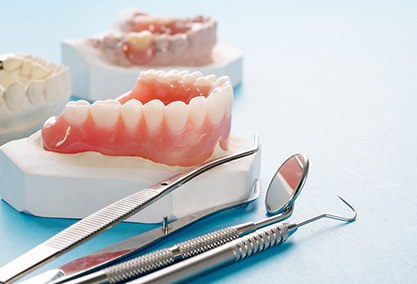 Full dentures have a different design, as they're made to restore an entire row of missing teeth. The base is made from gum-colored acrylic and designed to utilize natural suction within the mouth to stay firmly atop the gumline. This will make eating and speaking easier. The base also features a complete set of teeth that can be crafted from a variety of lifelike materials, like ceramic.
Implant Dentures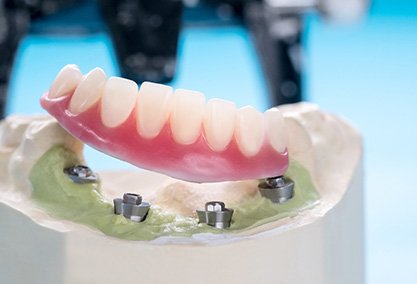 Implant dentures are by far the most natural looking and feeling tooth replacement option available, as they restore the entire structure of missing teeth, including the roots. Instead of using natural suction or existing teeth to stay in place, your restoration will be secured to anywhere from four to eight dental implants that are surgically placed below the gumline and into the jawbone. Due to their biocompatible properties, they're able to naturally fuse with the bone, making your replacement teeth unwavering and lifelike in every way.
The Benefits of Dentures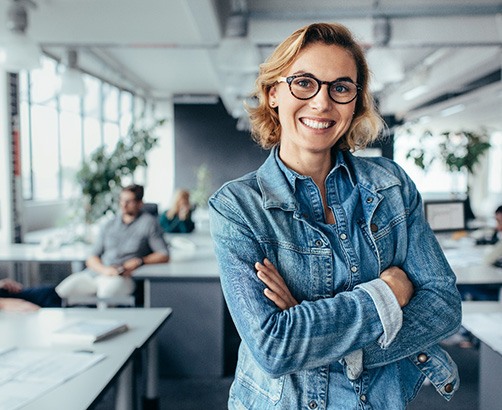 When you invest in dentures, you'll be able to enjoy a variety of benefits, including:
A cost-effective way to restore your missing teeth.
Regained confidence and self-esteem.
Preservation of your facial shape.
A more varied diet with improved bite force.
Customized to look natural.
Easy to maintain and care for.
An average lifespan of 7+ years with traditional dentures and 35+ years with implant dentures.