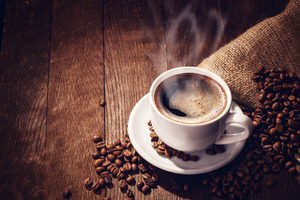 Once you've completed a professional whitening treatment, you'll be able to see the difference that a brighter smile can make for your appearance and your confidence. Naturally, the last thing you'll want is to undo the dazzling results by eating or drinking the wrong thing. Unfortunately, there are quite a few seemingly innocent meals and drinks that can end up staining your grin. If you want to protect your newly whitened teeth, stay away from these 5 foods and beverages as much as possible.
1. Coffee
Coffee is rather notorious for staining teeth. It contains dark pigments that can easily become trapped in the pits and craters on the surface of your enamel, leading to discoloration over time. If you don't want to give up your morning caffeine, try substituting coffee with clear herbal tea. Yerba mate can be an excellent option; not only is it naturally caffeinated, but it is full of antioxidants, which have been shown to have properties that help reduce inflammation.
2. Red Wine
Red wine is another example of a beverage that's well known for staining enamel. Like coffee, the pigments it contains can get trapped in openings on the surface of your teeth. Consequently, it can give your grin a garnet hue over time. As such, red wine should be near the top of your list of things to avoid after teeth whitening.
3. Dark Sauces
Many foods that could stain a white shirt could also end up staining your teeth. This naturally includes a wide variety of dark-colored sauces, including tomato sauce and soy sauce. Try opting for lighter sauces whenever possible, such as a white cream sauce.
4. Blueberries
Blueberries are very healthy and are full of beneficial antioxidants. Sadly, they also contain dark-colored pigments that can easily leave their mark on whitened teeth. Even worse, blueberries are acidic, meaning they can weaken teeth that are already sensitive after the whitening process. It's generally best to avoid blueberries for a while after your cosmetic treatment. Try sticking to low-acid, non-staining fruits such as bananas.
5. Foods and Beverages Containing Dyes
Teeth that have just been whitened tend to be especially susceptible to stains, so you'll need to avoid consuming anything that contains natural or artificial dyes. Popsicles, sports drinks, and candy are all common culprits that you'll need to be wary of.
If you're not sure what foods are and aren't safe to eat after teeth whitening, give your dentist a call to see what they recommend.
About the Author
Dr. Mark Smith has been creating better smiles in Sherman for almost 30 years. He earned his dental degree at the Baylor College of Dentistry, and he is currently a member of the American Dental Association and the Texas Dental Association. He provides in-office and at-home teeth whitening solutions for patients bothered by dental stains. To schedule a consultation with Dr. Smith, visit his website or call (903) 893-8030.