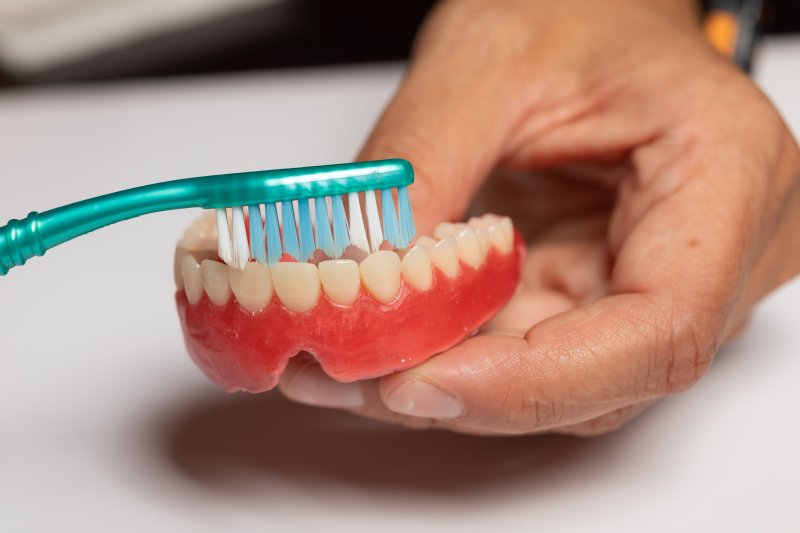 Balancing work, quality time with loved ones, and denture care can be demanding. While cleaning dentures while wearing them might appear convenient, it's not always the most efficient approach. Explore the suggested method to maintain your dentures for enhanced oral health. Keep reading to uncover the advantages of proper denture care and its positive impact on your overall well-being.
Can You Clean Your Dentures While Wearing Them?
While cleaning dentures in place is an option, a more comprehensive and effective cleaning can be attained by taking them out. Certain areas of dentures are inaccessible while they're worn. Removing them permits access to all surfaces, eliminating plaque and food debris. This inhibits the food source for harmful bacteria, preventing accumulation that could lead to cavities, gum disease, and other oral health problems.
How to Care for Your Dentures
Maintaining your dentures properly is vital for a healthy mouth and a radiant smile. To assist you in achieving this, here's a comprehensive guide on effectively cleaning and preserving your dentures:
Brush: Utilize a soft-bristled toothbrush and specialized denture cleaning paste to prevent scratches or damage.
Handle with care: Clean your dentures over a soft towel or in a water-filled sink to prevent accidental breakage.
Soak: Each night, soak dentures in a denture-cleaning solution or cold, fresh water for a thorough cleanse and to prevent warping.
Rinse: Before wearing, rinse dentures to eliminate residual soaking solution and avoid exposing your mouth to potentially harmful chemicals.
Avoid bleach: Refrain from using bleach, as it can harm denture acrylic unless directed by your dentist.
While certain areas of your dentures might be accessible while wearing them, follow the provided steps to guarantee thorough cleaning. Schedule a dentist appointment to gain insights into optimal restoration care for a healthy and an excellent oral state!
About the Practice
Residing in Sherman or its neighboring areas, and considering or already having dentures? Look no further than Dr. Grant E. Smith, Dr. Mark A. Smith, and Dr. Sharlenne Sumpter. They are dedicated to providing top-tier patient care and ensuring superior oral health. They also provide tooth replacement solutions such as dentures, enabling you to restore bite strength and rediscover your smile's charm. To learn about denture care or schedule an appointment, reach out at (903) 893-8030 or visit their website.