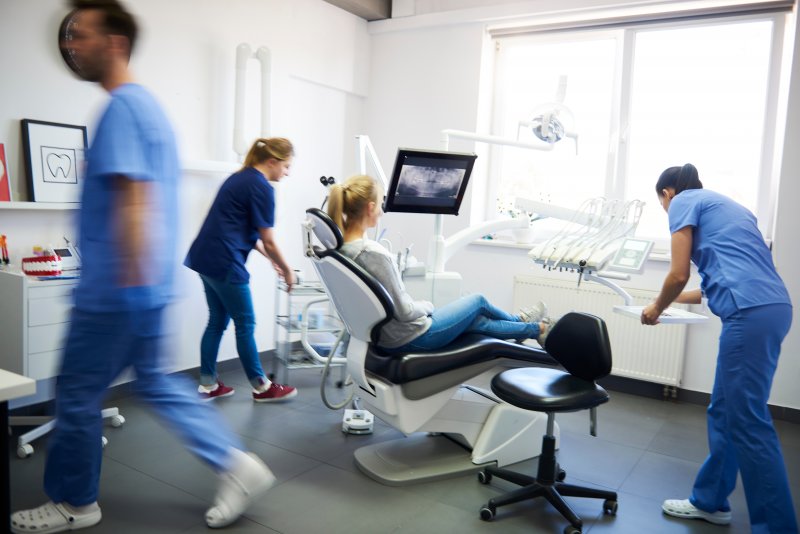 When your tooth is in pain, the last thing you want to do is to have to scramble to find a dentist. However, there isn't a better way to relieve that discomfort than to talk to a professional, which means that patients who don't already have an emergency dentist in mind usually wind up frantically searching for someone to help them.
If you're in that position, or if you just want to be prepared for the future, here's how you can find a dentist in an emergency.
How to Find an Emergency Dentist
First of all, there isn't necessarily such a thing as an "emergency dentist;" most dentists will be more than happy to see you the same day if you're in pain. If you are in need of a same-day appointment and you have a dentist that you see regularly, calling them would be a good place to start.
However, if you don't, you may need to just start phoning up dentists until you find one who can see you that day. This may be as simple as just googling "dentist near me" and sorting by distance to find the location that's the most convenient for you.
What if it's After Hours?
If you get injured in the middle of the night, it's possible there isn't a dentist's office open near you. In that case, you should still give dentists in your area a call and leave a voicemail with their front desk. The dental staff will call you back first thing in the morning and schedule you and appointment.
You should also listen carefully to the answering machine, as some dentists have an emergency after-hours number where you can contact them if need be. This will connect you directly to a member of the dental team, who will schedule an appointment for you and give you advice on what to do until you see them.
What to Do Until your Appointment
While most dentists will be happy to see you the same day, there will usually be at least a few hours before then. In the meantime, you can relieve discomfort in the following ways:
Take over-the-counter pain relief
Use a cold compress
Rinse your mouth out with saltwater
Fill cavities with temporary filling material, or sugar-free gum
About Our Practice
Welcome to the practice of Grant E. and Mark A. Smith DDS! We're a family-owned dental practice that prides itself on offering exceptional dental care to our community. Our team of incredible dental professionals will get to know you individually so that they can offer you the personalized treatment that can bring your smile back to perfect health.
If you have any questions about how you can deal with a dental emergency, we can be reached at our website or by phone at (903) 893-8030.